Sean B. Fain, PhD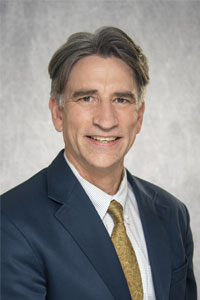 sean-fain@uiowa.edu
Education
BS, Geology, University of California at Davis
BS, Physics, University of Minnesota - Twin Cities, MN
Phd, Biomedical Imaging and Biophysics, Mayo Graduate School, MN
Post-doctoral Fellow, Department of Medical Physics, University of Wisconsin, Madison
Academic Appointments
PRESENT

Professor of Radiology-Division of Cardiovascular and Pulmonary Imaging, University of Iowa, Iowa City, IA

PRESENT

Vice Chair for Research, Department of Radiology, University of Iowa, Iowa City, IA
Research Summary
A major effort in Dr. Fain's lab is to improve quantitative pulmonary magnetic resonance imaging (MRI) for the study of chronic lung disease in children and adults, including cystic fibrosis, asthma, and interstitial lung disease. Advances in chronic lung disease care have created new challenges in monitoring lung disease, leading to the need for sensitive pulmonary biomarkers for use in new drug development and clinical care. Inhalation of hyperpolarized 129Xe and mapping of ventilation and gas exchange by magnetic resonance imaging (MRI) is a rapidly developing field that may be of great value to early lung disease assessment and monitoring. Since 2014 Dr. Fain's lab has been working on quantitative imaging methods using hyperpolarized 129Xe MRI and chest CT with a focus on developing common acquisition and analysis protocols for applications in asthma, CF and other chronic lung diseases.
Contributions
Krings JG, Goss CW, Lew D, Samant M, McGregor MC, Boomer J, Bacharier LB, Sheshadri A, Hall C, Brownell J, Schechtman KB, Peterson S, McEleney S, Mauger DT, Fahy JV, Fain SB, Denlinger LC, Israel E, Washko G, Hoffman E, Wenzel SE, Castro M. Quantitative CT metrics are associated with longitudinal lung function decline and future asthma exacerbations: Results from SARP-3. J Allergy Clin Immunol. 2021 Sep;148(3):752-762. doi: 10.1016/j.jaci.2021.01.029. Epub 2021 Feb 9. PubMed PMID: 33577895; PubMed Central PMCID: PMC8349941.

Hahn AD, Malkus A, Kammerman J, Higano N, Walkup LL, Woods J, Fain SB. Effects of neonatal lung abnormalities on parenchymal R2 * estimates. J Magn Reson Imaging. 2021 Jun;53(6):1853-1861. doi: 10.1002/jmri.27487. Epub 2021 Jan 6. PubMed PMID: 33404085.

Pohlmann A, Zhao K, Fain SB, Prasad PV, Niendorf T. Experimental Protocol for MRI Mapping of the Blood Oxygenation-Sensitive Parameters T2* and T2 in the Kidney. Methods Mol Biol. 2021;2216:403-417. doi: 10.1007/978-1-0716-0978-1_23. PubMed PMID: 33476013.

Barton GP, Torres LA, Goss KN, Eldridge MW, Fain SB. Pulmonary Microvascular Changes in Adult Survivors of Prematurity: Utility of Dynamic Contrast-enhanced Magnetic Resonance Imaging. Am J Respir Crit Care Med. 2020 Nov 15;202(10):1471-1473. doi: 10.1164/rccm.202002-0344LE. PubMed PMID: 32640170; PubMed Central PMCID: PMC7667914.

Fain SB. Hyperpolarized Gas MRI Technology Breaks Through: Advancing Our Understanding of Anti-Type 2 Inflammation Therapies in Severe Asthma. Chest. 2020 Oct;158(4):1293-1295. doi: 10.1016/j.chest.2020.07.019. PubMed PMID: 33036069.

Mummy DG, Carey KJ, Evans MD, Denlinger LC, Schiebler ML, Sorkness RL, Jarjour NN, Fain SB. Ventilation defects on hyperpolarized helium-3 MRI in asthma are predictive of 2-year exacerbation frequency. J Allergy Clin Immunol. 2020 Oct;146(4):831-839.e6. doi: 10.1016/j.jaci.2020.02.029. Epub 2020 Mar 13. PubMed PMID: 32173351; PubMed Central PMCID: PMC7487001.
Current Research Interests
Magnetic Resonance Imaging (MRI)
Hyperpolarization
Center, Program and Institute Affiliations
Iowa Comprehensive Lung Imaging Center (I-CLIC)
Radiology Research